Which Service Provider Should Handle Ceiling Mold Remediation in Oceanside Stores?
4/30/2021 (Permalink)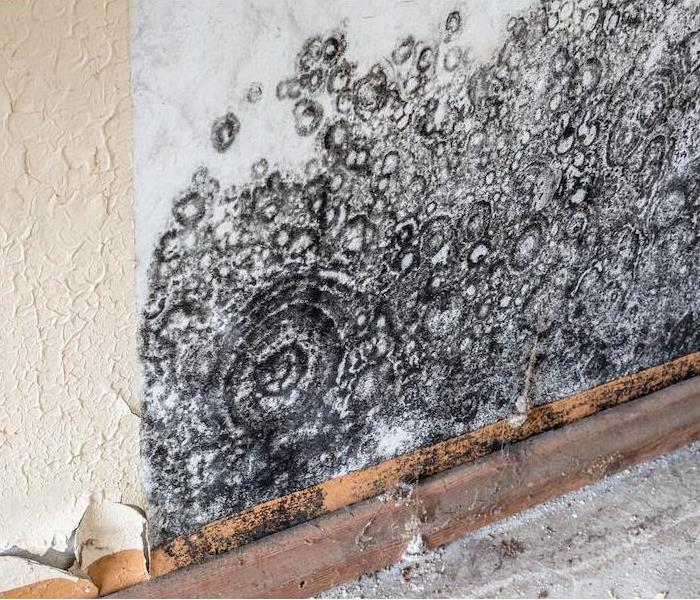 If mold is left unchecked, it can spread very quickly. Contact our IICRC certified mold damage remediation team for an assessment today.
SERVPRO Handles All Underlying Issues during Mold Removal from Oceanside Business Premises
Unseen problems such as a hidden roof leak allow water to penetrate the ceiling space soaking various materials like insulation, wooden trusses, and other structural supports. Unless the intrusion is significant enough, the water can remain in the void for days before discovery. Since black mold starts developing in as little as 48 hours, mold remediation and other services are necessary to restore the business premises.
Under such circumstances, the mold remediation process in your Oceanside business premises presents additional challenges such as removing deteriorated materials, protecting the contents in your work areas, and dealing with the mold. SERVPRO deals with various mold-related issues during our regular cleaning assignments, including:
Mold Removal
Attic Mold Removal
Black Mold Damage Repairs
Our SERVPRO technicians incorporate the protection of your valuables into the removal process. For instance, we have plastic sheets to cover items in working areas before tearing down the ceiling to remove wet and moldy materials. When cleaning the moldy residues, we avoid approaches that can spread them further. We clean surfaces from top to bottom or in the direction of negative airflow machines eliminating settled spores. Using antimicrobial products helps kill spores.
SERVPRO of Long Beach / Oceanside can help save your business by performing exceptional mold remediation. Call us at (516) 536-1801.